A global recession is likely to have an impact on client payment behavior, with the ever-present risk of delays, as well as additional demands for discounts and write-offs. For the most part, firms have been consistent in their identification of the key areas of improvement for profit leakage. The top three issues identified are standard rate discounts (34% of NA and 28% of UK), lack of matter budgeting (33% of NA and 26% of UK) and billing write-offs (32% of NA and 27% of UK). In the UK, the underpricing of work initially (30% NA and 28% UK) is also a priority issue. 
Future Planning
Finance directors in both regions cite billing write-offs as the biggest problem (54% of NA and 37% of UK). However, an interesting contrast exists at the managing partner level – in NA it is believed that the biggest issue is standard rate discounts (41% of NA) compared to only 16% of UK. Controlling rate discounting is largely within the firm's control. Proper client engagements and strong polices surrounding discounts can help influence the amount and level of discount.  
In both regions we observed a difference placed on the influence that matter budgets have in controlling profit leakage; in NA revenue directors (38% of NA and 13% of UK) and pricing directors (34% of NA and 20% of UK) viewed budgets as having an impact. However, as previously noted in the survey results, matters with a budget have on average a 10% increase in realization. It is safe to assume matter budgets have an influence on profit, and leakage.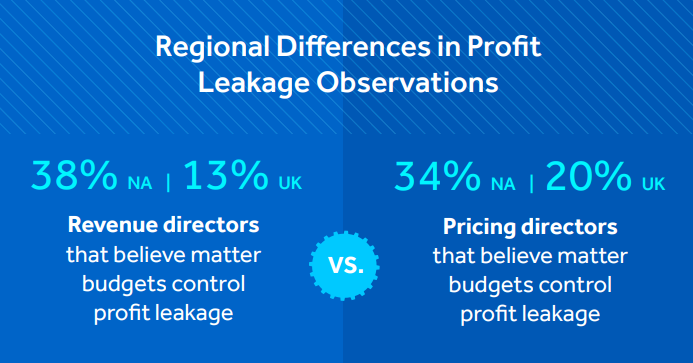 Initiatives and a Look Forward 
There are many aspects of the pricing, billing and matter management process that could be improved. Even small changes will lead to very significant improvements financially for both firms and clients alike. The net result is a more positive and constructive relationship. 
When asked, firms indicated they intend on focusing on improving in two main areas. The first is to improve billable time entry (37% of NA and 26% of UK), while the next priority in NA is to improve the visibility of financial data (36% of NA and 24% of UK) and in the UK is to invest in a system to calculate and manage profitability over the next two years (29% of NA, 26% of UK). 
Another significant change is a shift towards using incentives and penalties to reduce leakage. 90% of NA and 90% of UK firms have already or plan to introduce remunerated incentives or penalties relating to discounted pricing – cited above as one of the biggest contributing factors to profit leakage. In addition, 92% of NA and 89% of UK firms have already or plan to introduce remuneration incentive or penalties relating to increasing profitability margins.  
Supporting Lawyers 
The elephant in the room, however, is that lawyers do not have access to the data required to support the decisions required to safeguard profitability. Today, profitability data is still not shared with enough stakeholders to embed a more commercial focus throughout the firm. While 37% of NA and 23% of UK finance teams can review profitability data, it is available to just 22% of NA and 19% of UK partners and only 17% of NA and 20% of UK associates. In a challenging business environment, firms need to think carefully about demanding a more commercial operation without providing adequate support.
With talent shortages still a concern, it is important to consider the impact on lawyers now asked to improve profitability and minimize discounting while also expecting ever more billable hours and more collaborative client engagement. Considering the disruption created by the lateral hire merry-go-round that has occurred over the past 12 months – the number of partner lateral moves at London's top law firms increased again last year as did the number across NA - every aspect of the lawyer's working experience is now under the spotlight.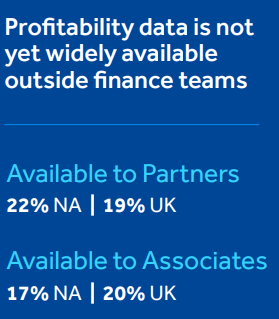 Holding lawyers accountable for profitability is about far more than tracking Key Performance Indicators (KPIs). Partners and associates need to be competent and confident in financial information to engage with clients, explain resourcing decisions and provide clear insight into the way matters are being run.  
Striking the right balance between incentives and punishment will be one challenge firms will discover as they fine tune their policies and procedures in the coming few years. An important element in the balance will be providing lawyers with access to the data that will empower the change that firms are seeking. In closing the information gaps, firms will be successful when adjusting their approach to address profit leakage.  
This was an excerpt from the report Improving Client Engagement to Safeguard Profitability. Access the full report to dive deeper into the findings from over 800 legal finance professionals: