These terms and conditions set out the basis on which you can use this website. If you do not agree to these terms, you must not use this website.
1. Information about us
This website is owned and operated by BigHand Limited ('BigHand', 'us', 'our' or 'we') whose registered office is 27 Union Street, London, SE1 1SD, UK.
2. Other legal notices
There are other legal notices on other areas of this website which will, together with these terms and conditions, govern your use of this website. One such notice is BigHand's Privacy Policy and Cookies Policy, which sets out the terms on which BigHand processes the personal data that it collects from you, or that you provide to it.
3. Ownership of right
This website contains material which is owned by or licensed to us. This material includes, but is not limited to, the design, layout, look and appearance of the website, as well as registered trade marks (as described further below). Any use of this website or its contents, including copying or storing it in whole or in part, other than for your own personal, non-commercial use is prohibited without the prior permission of BigHand.
4. Trade marks
BigHand is the owner of the following trade marks:
BIGHAND
BigHand Go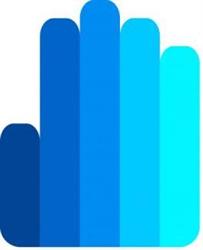 You are not permitted to use the above trade marks, or any other trade marks owned by us from time to time (whether registered or not) without our approval.
5. Accuracy of content
The content on this site is provided for general information only and it is not intended to amount to advice on which you should rely. To the extent permitted by applicable law, BigHand disclaims all warranties, express or implied as to the accuracy, completeness or suitability of the information contained in any of the materials on this website.
6. Links to other websites
From time to time this website may also include links to other websites, which are provided for your convenience to provide further information. They do not signify that we endorse the website(s) and BigHand cannot accept any liability in respect of the use of these websites.
7. Linking to this website
You may link to this website, provided that you do so in a way that is fair and legal and does not damage BigHand's reputation or take advantage of it. You must not establish a link in such a way as to suggest any form of association, approval or endorsement on BigHand's part where none exists. You must not establish a link to this website in any website that is not owned by you. This website must not be framed on any other website, nor may you create a link to any part of this website other than the home page.
BigHand reserves the right to withdraw linking permission without notice.
8. Exclusions of liability
Any disclaimers and exclusions of liability in these terms and conditions shall not apply to any damages arising from death or personal injury caused by the negligence of BigHand or any of its employees or agents, or fraud.
9. Suspension or withdrawal of the website
The website is made available free of charge. BigHand does not guarantee that this website, or any content on it, will always be available or uninterrupted. BigHand may suspend, withdraw or restrict the availability of all or any part of this website for business and operational reasons.
10. Account details
You are responsible for maintaining the confidentiality of any user identification code, password or any other information that you choose or are provided with as part of the security procedures connected to this website. We have the right to disable any user credentials, whether chosen by you or allocated by us, at any time, if in our reasonable opinion you have failed to comply with any of the provisions of these terms.
You agree to immediately notify us of any unauthorised use of your account or any other breach of security connected to this website by contacting us at [email protected].
11. Damage to your computer and the introduction of viruses
BigHand cannot guarantee that your use of this website or any websites accessible through it won't cause damage to your computer or device. BigHand shall not be liable to any person for any loss or damage which may arise to computer equipment as a result of using this website. You should use your own virus protection software.
You must not misuse this website by knowingly introducing viruses, trojans, worms, logic bombs or other material that is malicious or technologically harmful. You must not attempt to gain unauthorised access to this website, the server on which this website is stored or any server, computer or database connected to this website. You must not attack this website via a denial-of-service attack or a distributed denial-of service attack. By breaching this provision, you would commit a criminal offence under the Computer Misuse Act 1990. We will report any such breach to the relevant law enforcement authorities and we will co-operate with those authorities by disclosing your identity to them.
12. Changes to legal notices
BigHand reserves the right to change these terms and conditions from time to time without notice. Each time you wish to use this website, please review these terms to ensure that you understand the terms that apply at that time.
13. Law, jurisdiction and language
This website, any content contained herein and any usage of this website are governed by and construed in accordance with English law. The parties agree to submit to the exclusive jurisdiction of the courts of England and Wales.