Delving into the quality and timeliness of the information available to law firms, it is clear that too many firms are relying on out-of-date information at every stage of the process. As we discovered in the BigHand Legal Matter Pricing Survey, far too many firms are still reliant on inadequate tools – with Excel still widely used (31%) to prepare and manage matter budgets.
When reporting on profitability data, the information used by the firm is, on average, more than three days old (both NA and UK).
Without real-time information, presented in easy-to-understand ways, such as role-based dashboards, firms will struggle to provide vital financial visibility at any level of the organization, from Management and Partners to Associates.
Investing in Change
There is widespread recognition both of the need for change and the availability of technology solutions to deliver accessible real-time information that can support far more effective pricing and profitability management. Over three quarters (77% NA, 75% UK) are planning to introduce a legal pricing solution in the next two years – with Managing Partners (92% NA, 80% UK) the most likely individuals to confirm this plan, underlining the senior level commitment to this investment.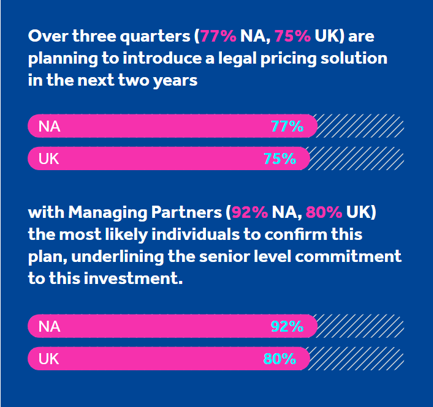 For any pricing director targeted with driving significant improvements, this senior level commitment to change is a huge advantage, overcoming many of the typical difficulties associated with achieving management buy-in to technology investment.
Law firms are now actively looking to support lawyers to achieve better financial outcomes with tools that provide data-driven budgets and costs, better resource plans, lower write-offs, and clear client reporting. An investment in matter budgeting, pricing and tracking technology that is designed for law firms to manage their matters financially will play a key role in ensuring firms can keep profitability objectives on track.
This was an excerpt from The Legal Pricing and Budgeting Report. Access the full report to dive deeper into the findings from over 800 legal professionals: