Support staff changes have been on law firm agendas for years, yet both lawyers and support staff are still constrained by a lack of information and processes to support effective task allocation and management.  Hybrid working has put a spotlight on the continued reliance on historic relationships and old-fashioned approaches to the way support staff are engaged and utilized.
Law firms need to make significant strategic changes fast – not only implementing effective hybrid working processes but also ensuring the firm operates effectively irrespective of the working model. Evolving support staff structures is important but, as the problems with manual task delegation outlined above confirm, it cannot be done in isolation.  Changing structure without adjusting the engagement process is likely to fail, lawyers and staff will revert back to what they are accustomed to. Truly effective change can only occur when the task delegation process is seamless, easy and data driven. When lawyers have immediate and frictionless ways to engage the support they need, efficiency is improved and client service is improved.  When managers and firm leadership have meaningful data to evolve their support teams, everyone is happy, particularly the client!
Access to this data is critical yet most firms are operating with extremely limited insight into the availability or performance of the support function. Over half (52% of NA, 54% of UK) of respondents have no data or only partial data on the volume of tasks sent from lawyers to support staff. This means they have no idea about the workload being sent to the support team as a whole or individuals and no vision to how that is trending.
52% of NA, 53% of UK firms have no data or only partial data on task turnaround times carried out by support staff. It is extremely hard for lawyers to have confidence in their ability to hit client deadlines without visibility of task progress which adds pressure to support staff and ultimately, client relationships. Furthermore, 50% of NA, 52% of UK have no data or only partial data on the capacity or utilization of support staff. There is a very real risk of some individuals being completely overloaded while others are idle. Furthermore, this lack of insight means there is no understanding of the type of tasks being allocated to individuals, increasing the risk that very senior (and highly paid) support staff are engaging in very basic support tasks that could easily be handled by more junior staff.  Additionally, with a lack of transparency, junior staff struggle to develop their skills and often get pigeon-holed into a dead-end role where further development and skills growth is non-existent.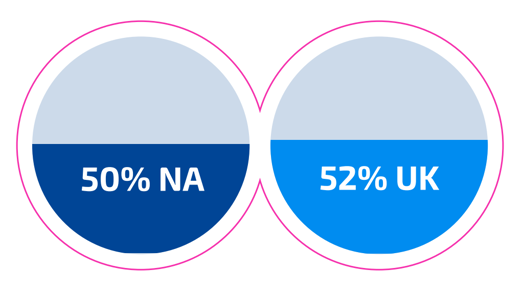 Automation and Insight

To successfully implement the right hybrid working policies, support staff structures and delegation processes, access to insightful data to understand what business changes to make and when is vital. How can firms set up optimal team structures and hybrid working arrangements without accurate data on staff capacity, or the volume of tasks (and what type of tasks) are being sent and how long they take to complete?
Given the escalating cost pressures facing the industry, there is no room for the inefficiency associated with manual delegation of tasks. Automation is important not only to support an effective hybrid working model but also to create a law firm ready to manage the new economic challenges predicted to face the industry in the coming few months.
The good news is that firms recognize the need for more technology - spurred on by the challenges created by remote working and the problems created by the manual task delegation referenced previously.  Firms increasingly recognize that workflow management technology is the foundation for an effective support service. With access to improved data around work types, volumes, team capacity and utilization, Workflow Management futureproofs a firm by supporting better decisions around staffing, training and performance. In addition, it also supports the vital process of efficiently delegating tasks to the right resource.
Over half (55%) of NA, 45% of UK respondents have plans to implement a workflow system to manage legal support tasks in the next 24 months. This represents a 12% increase from last year in NA and 11% increase in UK, underlining the growing recognition of the importance of investing in technology to create a support service that truly meets the needs of law firms.  In most cases, this investment pays off in multiples simply by the efficiency gained in the process.
This was an excerpt from the report 'Future Proofing Legal Services Delivery with an Efficient Hybrid Support Structure'. Access the full report to dive deeper into the findings from over 800 legal management professionals: