A significant cultural shift is afoot throughout the industry to increase the focus on profitability. Firms are making improvements to their matter pricing by ensuring the right people are in place, with the right training and remuneration.
The majority of firms (70% NA, 61% UK) have hired new dedicated pricing resources in the last 18 months; while 23% (NA), 27% (UK) plan to recruit a pricing specialist in the next two years. 22% (NA), 25% (UK) also plan to train lawyers in pricing practices.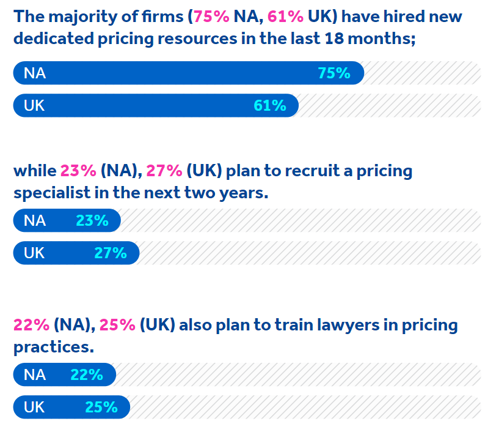 However, pricing directors and teams cannot achieve significant change when working in isolation. The entire firm has to be focused on the business, not the practice of law, to achieve real, sustainable improvements in profitability in an increasingly cost-squeezed market.
Expanding Responsibility
It is positive to see firms are also using lawyer remuneration as a method to reduce profit leakage. Lawyer remuneration incentives/penalties based on reducing billing write-downs are already in place (39% NA, 41% UK), with 49% (NA), 50% (UK) planning to introduce in the next two years. 40% (NA), 42% (UK) have implemented lawyer remuneration incentives/penalties based on increasing profitability margins, with 47% (NA), 46% (UK) planning to follow suit over the next two years.
However, for remuneration incentives to work – lawyers need access to the right data and tools to accurately track matter budgets and profitability. Critically the process needs to be simple, with information easily consumed to minimize the time spent on non-billable activity.  In addition to pricing tools that allow individuals to compare different fee options, including AFAs, and resource levels, the use of real-time alerts provides lawyers with confidence that any divergence between budget and actual is immediately highlighted, allowing proactive and timely intervention.
This was an excerpt from The Legal Pricing and Budgeting Report. Access the full report to dive deeper into the findings from over 800 legal professionals: