A clear indication of the pace of change that has occurred during the pandemic is the way firms are looking to introduce more pricing transparency and flexibility to meet client expectations.
Firms have responded to client demands for more flexible pricing models. 41% (NA), 36% (UK) have introduced extended payment terms, 40% (NA), 43% (UK) offer AFAs like fixed fees or capped fees, and 39% (NA), 41% (UK) are discounting standard rates, flat discounts, or early payment discounts.
Firms now offer a range of AFAs, including tiered discounts (32% NA, 28% UK on average); portfolio / group fees (31% NA, 29% UK on average) and collar fees (29% NA, 30% UK on average). Other AFAs in use included fixed fees (23% NA, 24% UK on average) and capped fees (27% NA, 28% UK on average).
What percentage of all legal matters at your firm use the following Alternative Fee Arrangements?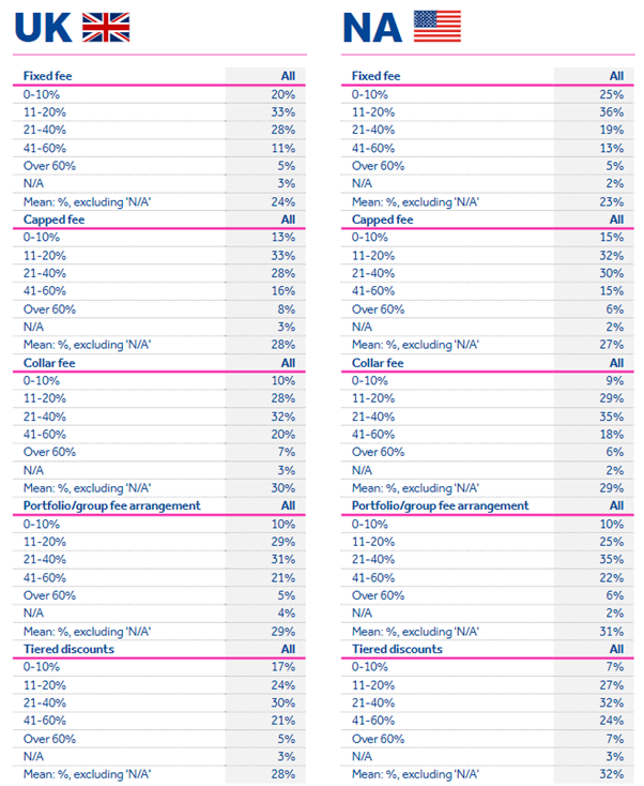 Financial Transparency
At the same time, firms have responded quickly to client demands for pricing visibility and flexibility: with 41% (NA), 51% (UK) now providing greater visibility of the pricing breakdown at the start of the matter. 35% (NA), 40% (UK) have introduced upfront billing or billing on milestones. However, 39% (NA), 41% (UK) also feel compelled to offer discounted standard rates, flat discounts or early payment discounts – which will create new profitability challenges.
Furthermore, while upfront improvements in pricing information are welcome, firms are not providing enough information throughout the matter process. Less than 1% (NA) and just 2% (UK) firms provide updates on budget throughout the project lifecycle on all matters – suggesting that firms are still constrained by a lack of processes and technology.  
With AFAs placing ever greater pressures on matter budgeting and pricing to maintain profitability, it is now essential to introduce effective planning and tracking of costs. Pricing tools that allow the adjustment of rates and resources provide firms with confidence to offer pricing flexibility to clients without fear of eradicating the profit margin.  They also provide firms with the ability to replicate a budget at the touch of a button, utilizing existing, proven models that are not only profitable for the business but also show value to the client.
This was an excerpt from The Legal Pricing and Budgeting Report. Access the full report to dive deeper into the findings from over 800 legal professionals: