Pricing teams have become a core function as law firms adapt to align with client demands and the changing pricing models throughout the sector. The role of pricing teams has changed over the years, evolving from the design of different pricing structures, to owning the matter budget process, to participating in client negotiations. 61% of NA, 56% of UK firms say the responsibilities of the pricing function have grown in the past 12 months. 
The need for pricing flexibility, even ingenuity, is another trend we have reported on over the past few years. Last year, for example, revealed the extent to which Alternative Fee Arrangements (AFAs) have expanded.  
Continued Development 
These new pricing models are complex, putting pressure on firms to have a better understanding and management of costs to safeguard profitability.
To meet this challenge, law firms have continued to invest in dedicated pricing expertise. 98% of NA and 96% of UK firms now have pricing roles/teams – with 33% of NA, 37% of UK adding this expertise to the business over the past 12 months. As pricing teams have expanded, law firms have broadened their remit, with 61% of NA and 56% of UK firms confirming the responsibilities of the pricing function have grown in the past 12 months. 
Influence of Pricing Specialists
This research reveals the extent to which the influence of pricing specialists and expertise has expanded over the past few years. In two thirds (66%) of NA and 58% of UK firms, pricing teams are responsible for setting rates, which means firms should be more confident in their ability to respond to client demands for different cost models without compromising profitability.  
In addition, for 67% of NA and 60% of UK firms, the pricing function is involved in the billing process – indeed, when creating a budget, the pricing team reports on the realization of client and/or matter profit for 65% of NA and 62% of UK firms. With pricing proactively tracking realization, the business is in a far better position to understand trends in client behavior and responding in a timely way to minimize the risks of write-offs.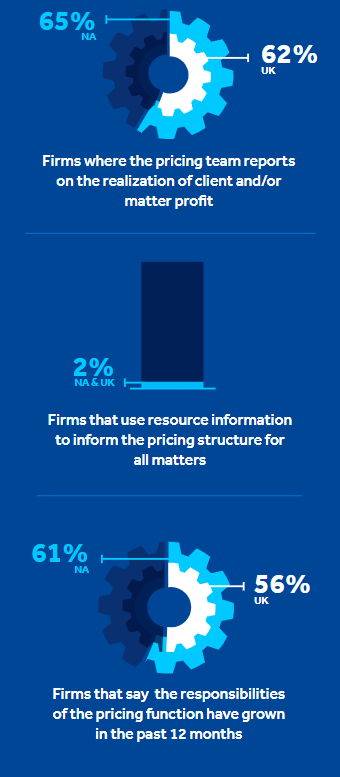 Highly Valued Assets 
This extended remit demonstrates the importance of the role pricing teams are now playing in the evolution of service delivery within law firms. They are well placed to assess the value of different delivery models to optimize internal structures from both a matter efficiency and profitability perspective.
Pricing teams have the expertise to assess the potential use of alternative resources and required levels of lawyer expertise. They have the knowledge to highlight the need for specific technology to support an effective pricing and budgeting process. Pricing teams are increasingly influential in determining the most effective ways to deliver profitable services across a firm. 
However, teams can make additional progress to ensure pricing models are optimized and encourage consistent use across the business.  Blending pricing and resourcing information would be a best practice and firms (99% of NA, 98% of UK) are more committed to using a breakdown of the cost of allocated resources to inform matter pricing.  To date, 27% of NA and 28% of UK matter pricing also includes resourcing information, providing a clear opportunity for team to drive additional business value. By building on the expertise of a pricing team to embed robust, consistent, data driven processes, a law firm can achieve better financial outcomes, including fewer write-offs, while also improving client engagement. 
This was an excerpt from the report: Improving Client Engagement to Safeguard Profitability. Access the full report to dive deeper into the findings from over 800 legal finance professionals: