Expectations 
With a growing demand for close client collaboration, the entire organization must focus on balancing client expectations with the needs of the law firm, including the goal of growing profits. While the expanded role and visibility of the pricing team is adding essential expertise and experience, as this BigHand research confirms, firms still have work to do in increasing the financial acumen of Associates and Partners.  
96% of NA and 86% of UK firms hold partners accountable for the profitability of work to the firm (up from 85% of NA and 79% of UK last year). However, accountability does not apply to all matters. Only one third (38% of NA and 34% of UK) partners are held accountable all of the time. If partners are not held accountable, how will firms achieve a consistent approach that delivers a more collaborative and transparent client relationship? 
Information Shortfall 
An opportunity for firms to advance accountability is to improve the information they are providing partners and associates.  Our research shows that firms can be better at providing accurate, timely data to support these individuals so that they may make fully informed decisions, as well as take action where appropriate.  
Many partners continue to rely on monthly reports (41% of NA and 39% of UK firms), post matter analysis (27% of NA and 26% of UK) and ad hoc updates (23% of NA and 21% of UK). Just 35% of NA and 28% of UK partners have access to real-time automated reporting per matter.  
There are simple steps a firm can make to support partners in their day-to-day client engagement and create a stronger culture of financial accountability. Adding detail to information and ensuring it is up to date will help partners to respond to clients' own profit concerns and cost issues. Ubiquitous matter budgets will meet client expectations and provide partners with the information they need to easily and quickly track performance against profit goals.  
Extending Commercial Awareness 
The shift in expanding the responsibility for profitability has grown since we ran our last survey. Last year the results revealed 85% of NA and 80% of UK firms were encouraging associates to have awareness of the profit of the matter. This year, that figure has grown to 94% of NA and 90% of UK firms. This upward trend is an encouraging statistic. It shows a commitment to creating a culture of financial awareness while expanding this understanding to include more than just partners.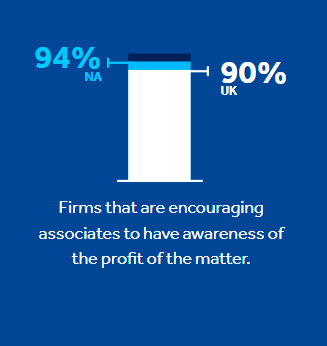 Awareness, coupled with direct access information provides an opportunity for further improvement. Almost a third (30%) of NA and UK firms still encourage practice heads/ partners to relay this information to associates. While 33% of NA and 36% of UK rely on monthly reports and 23% of NA and 25% of UK review post matter analysis. Just 42% of NA and 32% of UK Associates have access to real-time automated reporting per matter – little difference to last year's results (35% of NA and 37% of UK). 
Future Planning 
Today's associates are tomorrow's partners. With that in mind, firms have a great opportunity to begin instilling financial awareness into the next generation of partners by starting with their associates. This research confirms that firms have started providing associates with the information they require to prepare them for partnership. However, just 41% of NA and 39% of UK have access to billing information, 41% of NA and 36% of UK to profit information, and 40% of NA and 37% of UK to time information for matters they are working on.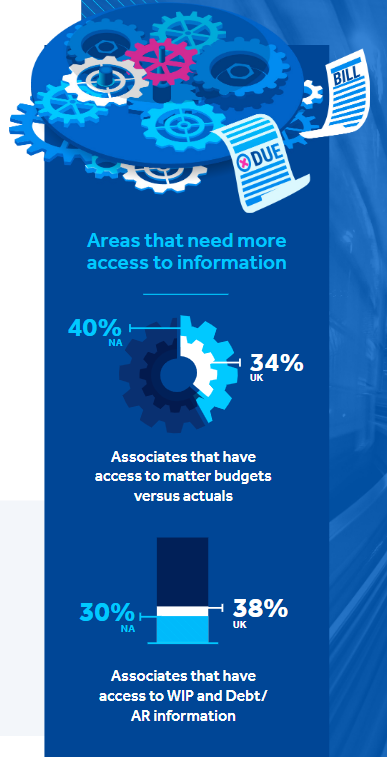 This is a good start, although there is still work to be done. The numbers are similar when looking at matter budget information, where 40% of NA and 34% of UK have access to matter budgets versus actuals and just 30% of NA and 38% of UK to WIP and Debt/ AR information. Firms who begin this financial education will be in a better position in the long run and can further distinguish themselves in a heated lateral market.   
This was an excerpt from the report: Improving Client Engagement to Safeguard Profitability. Access the full report to dive deeper into the findings from over 800 legal finance professionals: