The pandemic has changed employee expectations of their working life. A recent Microsoft survey confirmed that employees want the best of both worlds: 73% want flexible remote work options to continue; at the same time 67 percent are craving more in-person time with their teams.
Hybrid working will be far more flexible than traditional working models – from the number of days in the office to the times at which individuals work. Both lawyers and support staff are exploring flexible working hours – although this is a stronger trend amongst lawyers. BigHand's survey reveals four fifths (80%) of lawyers in NA, 78% in the UK and 56% in APAC are working outside office hours. Just under two thirds of respondents also report support staff in NA (58%) and the UK (60%) are embracing flexible hours, as well as 47% in APAC.
Flexible Approach
There is no 'one size fits all' approach to hybrid working – and every individual will have different expectations of the working week. Most respondents report that support staff will work away from the office for two to three days per week – cited by 37% of NA firms and 36% of UK. 21% of NA and 17% of UK firms expect support staff to work away from the office up to three to four days a week.
In APAC over half (56%) expect support staff to be in the office the majority of the time, working from home at most one day a week. Just 4% expect the time out of the office will be two to three days and 4% three to four days a week.
This is a significant shift in working models and one that raises questions about how lawyers will access the right level of support expertise and experience during this extended working time. Given the divergence in attitudes – between staff, firms and geographies - what information are firms using to accurately forecast resourcing demands? While four fifths of UK and NA firms had already begun to restructure support teams pre-pandemic, the change was predicated on office-based collaboration. As the BigHand Legal Support Survey in 2019 discovered, just 3% of support staff globally were working remotely, and only 1% in NA. This raises important questions about how work allocation is being managed, tracked and reported in a predominantly remote working model.
If this process is not managed efficiently in a hybrid working world and lawyers have no visibility of the support skills available at any time, they will be forced to undertake more low value administrative work or spend valuable time trying to find an available properly skilled resource. In addition to further reducing billable hours and the individual's value to the business, this is also likely to affect job satisfaction. From the cost of recruitment to the impact on client relationships, high levels of fee earner turnover will have a negative impact on the bottom line.
Lawyers' Hopes and Fears
Lawyers have become used to the gradual evolution in support service structure over recent years. In BigHand's Time for Change report, 68% of firms were exploring specialised groups, outsourcing and centralisation in low-cost locations. However, there are still challenges – in BigHand's Legal Support Survey, 59% of respondents did not believe that support work was being submitted as effectively as it could be; while 35% didn't believe that work is being distributed evenly among support staff.
Two years on, the latest research confirms that many respondents are concerned about how firms are planning to provide better access to resources in an increasingly hybrid workplace. In NA, 36% cite the difficulty of ensuring an even distribution of work between support staff as the biggest concern regarding the impact of hybrid working. In the UK, for over a third (35%) the biggest concern is the need for lawyers to undertake more administrative work instead of delegating to support staff.
While each region has slightly different priority concerns, there are several key issues that resonate globally – including the challenge of maintaining the firm culture and being part of a team (35% in NA, 30% in the UK, and 70% in APAC), managing staff working more flexible hours (33% NA, 23% UK, 40% APAC) and achieving transfer of knowledge between staff (30% NA, 24% UK, 44% APAC).  To that we can add the lack of visibility (30% NA, 26% UK, 33% APAC), – from the volume of work to the capacity available – and lawyers' lack of understanding of how to find the best available support resource (32% NA, 29% UK, 28% APAC).
Despite successfully managing the upheaval of the past year, many firms have significant challenges ahead if they are to create a truly effective hybrid working model.
Welcome Change
On the plus side, firms also recognise the opportunities to deliver a better, more enjoyable and more efficient working environment. Many firms are positive about the opportunities that hybrid working will bring – with 39% of NA respondents saying flexible working hours will increase round the clock support.  In the UK 37% say hybrid working will make it easier to share / move work between offices; while in APAC 82% believe it will improve work/life balance for employees – something that is also welcomed in NA (37%) and UK (36%).
Using technology to provide better work allocation and visibility of the volume and complexity of work can support everyone's expectations and desires for a better work/life balance. This has become even more important during the pandemic and will be a key factor in recruitment and retention strategies. Complete visibility will also reinforce the drive towards openness and fairness, ensuring that everyone has the same access to work, supporting diversity and inclusivity goals throughout the firm.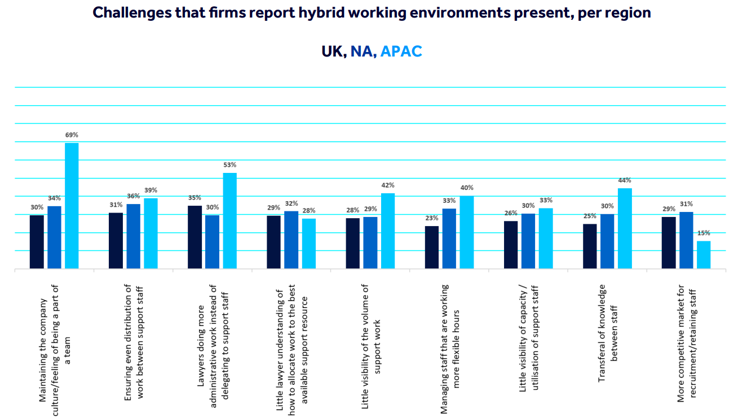 This was an excerpt from The Legal Workflow Management Report. Access the full report to dive deeper into the findings from over 900 legal management professionals: