Change is on the agenda. Firms recognise the need to support this rapidly evolving support model, with 45% of NA firms, two in five (40%) of UK firms, and over half of APAC firms (53%) planning to implement workflow technology over the next 24 months.
In addition, firms across all regions are prioritising facilitating hybrid working for support staff a goal for over half (52%) of NA firms, 37% of UK firms and 25% of APAC firms.  Similarly, retraining / upskilling support staff was also confirmed as a priority over the next 24 months for 40% of NA firms, 38% of UK firms, and 48% of APAC firms. 30% in NA and 35% in the UK and are also planning to reduce support staff numbers, and over one third (36%) are looking to outsource more support work.
The shift towards outsourcing is significant. 39% of NA, 42% of UK, and 18% of APAC firms had already introduced more outsourcing as part of their pandemic response. The fact that 40% of NA, 37% of UK, and 20% of APAC firms selected more outsourcing as a priority objective for the next 24 months is a clear indication of the significant change within an increasingly hybrid support service model. While these goals make perfect sense, maximising the value of these changes requires strategic planning based on real insight into a firm's requirements.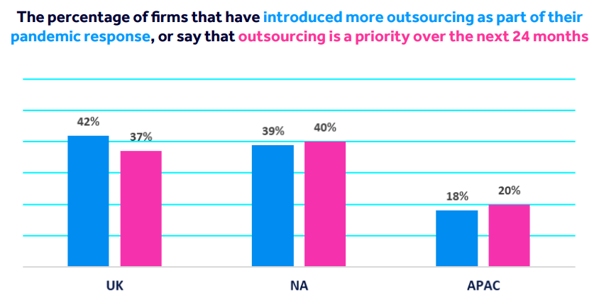 Without an existing baseline understanding of the existing skill sets and work requirements, firms will struggle to make the correct changes. What type of retraining and upskilling is required? How, when and where is it best to use outsourced services? With so many staff still working remotely, even identifying the gaps in expertise will be difficult without reliable, up to date information to support decision-making.
This was an excerpt from The Legal Workflow Management Report. Access the full report to dive deeper into the findings from over 900 legal management professionals: