Accessing the skills required to maximise the productivity of this new support structure remains a challenge – despite the succession planning that should have been in place to manage the high rates of legal secretary retirement and attrition.  In the BigHand Time for Change report, firms confirmed they were expecting to lose 58% of their "traditional" secretaries over the next five years due to retirement and natural attrition.
The problem has not disappeared – in fact, it has got worse. The latest BigHand survey confirms that over half (56%) of respondents from NA expect 20% to 40% of their support staff to retire in the next five years – the same for nearly half (49%) of UK firms.  Attrition rates are also high – with 61% of NA and 64% of UK firms expecting to lose 20% to 40% of staff through natural attrition over the next five years.  In APAC, half (51%) expect less than 10% of support staff to retire and 49% of firms expect to lose 10% or fewer staff to attrition.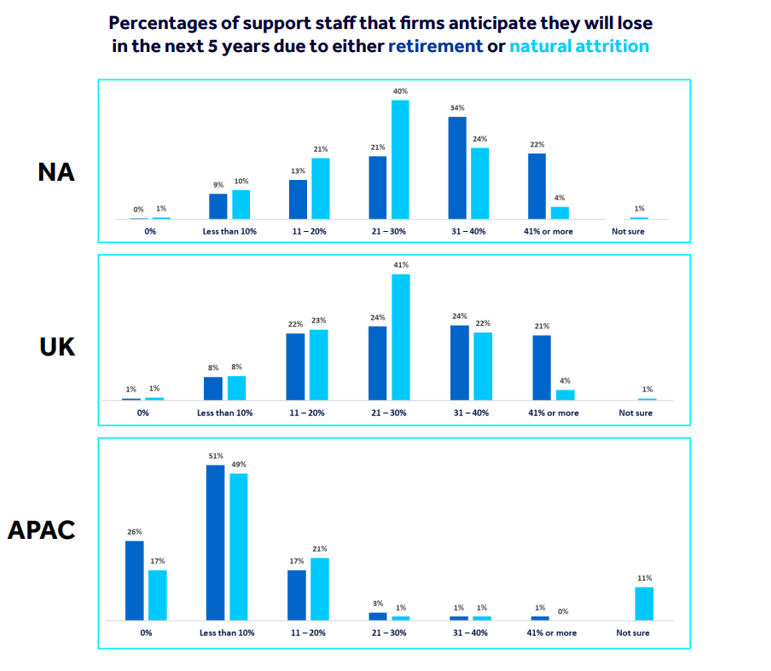 Firms are looking again at the level and type of skills required within the support team to address this. 44% of NA, 42% of UK and 20% of APAC firms plan to include more junior administrative roles.  Many firms are adding these positions to allow their more experienced staff to work across a broader number of attorneys, making better use of their extensive legal knowledge while more general, clerical work is completed by the junior support staff.
This is more than likely down to the fact that replacing senior staff is tough; 46% of NA, 55% of UK and of 36% APAC firms rated finding like-for-like replacements 7 or 8 out of 10, where 10 is extremely difficult.   Again, this is not a pandemic related issue: the 67% of respondents in Time to Change said that recruiting like-for-like secretaries was a key challenge. This suggests succession planning and the structural changes required for career development are not yet in place.
Firms are facing a ticking time bomb for support teams. How are they going to provide a high quality service to lawyers and their clients without strategies in place to address this huge level of staff turnover  given the lack of like-for-like replacement talent? With younger lawyers perhaps more willing to undertake administrative work themselves rather than wait their turn for an over-burdened support team, there is a risk that the trends already seen in reductions in billable hours could continue. This is not a policy that should be encouraged – so how are firms planning to address the skills gap?
Firms in NA (37%) and the UK (33%) also plan to increase out-of-office hours support. These changes are not as widespread in APAC – with only 6% increasing out-of-hours support.
This was an excerpt from The Legal Workflow Management Report. Access the full report to dive deeper into the findings from over 900 legal management professionals: