Firms clearly recognise the importance of getting the right work to the right support staff – but how are firms identifying the skills required? Have new policies been introduced to improve training to create the right skills mix within each specialised team? Critically, how is the cost base being measured to maximise profitability?
More Change Needed
Of course, firms have made significant changes to support hybrid working over the past year – and earlier.
In the BigHand Legal Support Staff report 59% of respondents had seen significant changes in the set-up of their legal support services over the past three years.
However, our latest findings suggest these changes have not provided the flexibility and adaptability required. Over the past year firms have been compelled to look again at the support team, with four fifths of NA (80%) and UK (81%) firms, and a quarter of APAC firms (25%) making further changes since the pandemic began. To add, almost half of firms have already introduced, or plan to introduce, flexible working hours (48% NA, 46% UK, APAC 44%).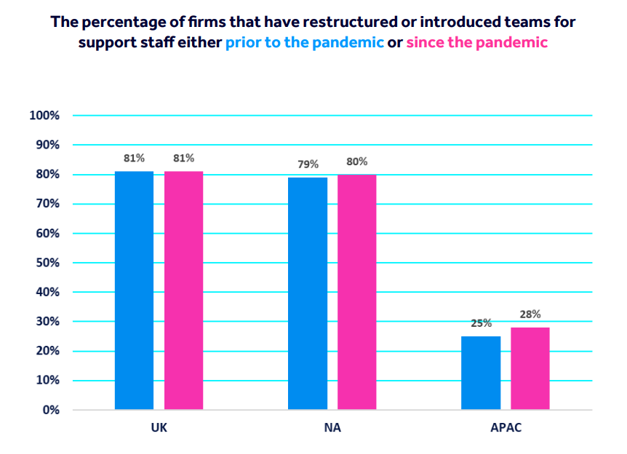 After years of incredibly slow change, support service strategies have accelerated– but how are law firms now positioned to support this new way of working?  Are the support teams in place to deliver the right level of expertise and experience across the entire organisation? How is the support team set up to support the extended working hours increasingly preferred by fee earners?  Is the allocation of work being monitored to ensure no one is being under- or over-worked? And how is the process being tracked to ensure a continual evolution of the support model to reflect the new work/life balance?
Accelerating Change
Over half of NA (50%) and UK (52%) firms plan to make structural changes to back-office services, including the move to broader teams supporting more lawyers. By creating a team of 10, for example, supporting 40 lawyers – as opposed to one support staff to four lawyers – firms can better manage hybrid working hours, as well as building a team with a broader range of skillsets and experience. In APAC this model is being considered by 1 in 5 firms (19%).
This approach will create additional challenges in effective and timely work allocation. Clearly no firm can expect 40 lawyers and 10 support staff to efficiently manage a complex mix of tasks without a clear, end to end visibility of workload and workflow. Providing everyone in the team with a complete view of workload, skills required and priorities is vital if this broader team structure is to work.  Firms recognise this imperative, with the implementation of workflow technology a priority for a significant number of firms – more on this to come.
The accelerated shift to remote working for all has highlighted challenges within support models and firms clearly now recognise the need for better control and visibility to maximise support staff expertise and deliver the speed of service fee earners (and their clients) require.
This was an excerpt from The Legal Workflow Management Report. Access the full report to dive deeper into the findings from over 900 legal management professionals: