Clients are increasingly demanding that work is completed by the most cost-effective resource. The pressure has increased since the pandemic in over half NA (54%) and UK firms (55%) and 15% of APAC firms. Certainly, progress has been made in this area. Three quarters (76%) of NA firms, two thirds (66%) of UK firms, and almost half of APAC firms (47%) are encouraging lawyers to delegate legal support work to the most cost-effective resource available (although how firms are effectively monitoring this is dubious).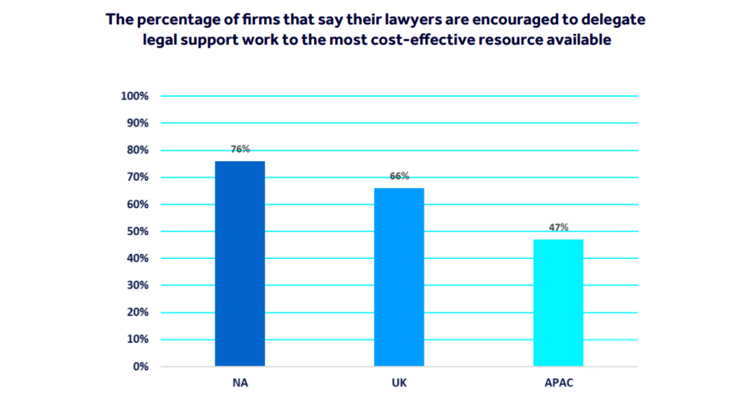 Furthermore, 85% of NA, 75% of UK and 60% of APAC firms confirm they know the total cost of support teams to the firm, including salaries, equipment and real estate costs. Over three quarters of UK and NA firms, and 43% of APAC firms reported that they are measuring the performance of support teams.
This is significant improvement since the Support Staff Survey when just 17% of firms apportioned the cost of support effort against client matters. In Time for Change, firms scored themselves 3.6 (on a scale from 0 to 10, when 10 is strongly agree) when asked if they have data to understand if support work is completed by the appropriate resource. Further, the firms rated themselves poorly on whether they have the data to understand if their support staff are being utilised properly (4.5) and have little visibility of quality (4.2). They also rated themselves poorly with regards to having the data, information and reports required to make informed management decisions regarding administrative support staffing levels and structure (4.9).
Lack of Visibility
The question arises as to whether firms are using this data effectively and efficiently – because there is still a reliance on manual monitoring (e.g. manually updating excel files, monitoring inboxes, or dedicated resources distributing and monitoring work).  Almost half of NA (48%) and UK (43%) firms, and a third (33%) of APAC firms are manually monitoring some factors such as the volume and type of support tasks, capacity and utilisation of support staff and turnaround times.
Manual monitoring does not provide real time information – and it is not always accurate. Data is often out of data by the time reports are completed, minimising the value of the information. In addition, manual monitoring is virtual impossible when individuals are working remotely.
Without this insight, how are firms going to demonstrate their commitment to meeting client expectations for cost transparency and tasks being undertaken by individuals at the right level? Are firms being forced to subsidise client activity due to the lack of information and cost visibility? Even if this is the case, without the ability to provide cost transparency, there is a risk that client confidence and relationships could be compromised. Automated reporting on the volume and types of tasks, support staff capacity and utilisation and the speed of turnaround has become a fundamental component not only of effective hybrid working but also of enhanced client experience with faster turnaround times and confidence that the right resource is doing the right work at the right cost.
This was an excerpt from The Legal Workflow Management Report. Access the full report to dive deeper into the findings from over 900 legal management professionals: