Creating a strategic, firm-wide approach to resource management is a significant change, especially for partners used to taking personal responsibility for sourcing the correct talent for their matters.
One of the biggest challenges still facing firms is their lack of actionable data.  One of the critical gaps is the lack of information about work allocated and the capacity / utilisation of staff: only 41% NA, 42% UK, 25% APAC have information about the work allocated from partners to associates. For many firms the information is not provided in real time – the manual data collection process is often inconsistent, leading to delays and potential inaccuracies that compromise both confidence in the data and individuals' ability to make fast, informed decisions.
In addition, the lack of capacity information makes it hard to optimise turnaround times and ensure the right resource is allocated to the most appropriate work: just 46% NA, 38% UK, 39% APAC have data regarding capacity or utilisation of partners or associates and only 40% NA, 36% UK, 23% APAC, have visibility of the different skillsets of each associate. Without this data any attempts to improve matter profitability is constrained – work cannot be allocated to the optimal resource, affecting client output and relationships and, inevitably, profitability.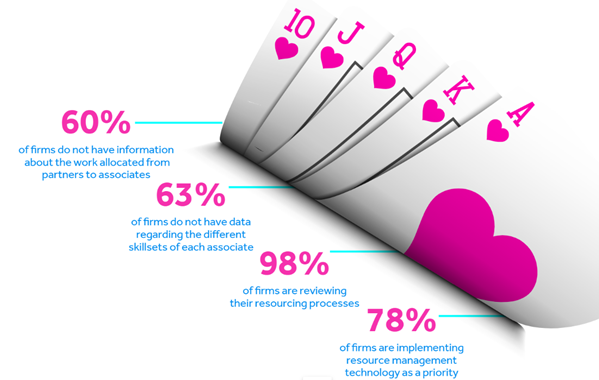 Corporate Commitment to Change
Client expectations have also played a part in the escalating of DEI priorities for many firms.  With growing awareness across the board about unconscious bias and the importance of improving staff well-being through more effective, thoughtful and equitable allocation of work, many clients' own DEI policies include an expectation that its partners, particularly their outside counsel, staff all projects with diversity in mind.
Strong processes backed up by excellent Resource Management technology can help demonstrate and provide the data to clients that the firm's DEI commitment is being implemented at every level of the business.
This was an excerpt from The Legal Resource Management Report. Access the full report to dive deeper into the findings from over 900 legal management professionals: